Ham is a classic centrepiece for Christmas dinner in the UK and for good reason. It's succulent, sweet and salty.
However, if you want to make a Christmas ham, you'll need to buy a gammon joint first.
Is there a difference between gammon and ham?
The answer is – not really! Both are delectable and adaptable meat that originates from the hind legs of a pig. Gammon refers to meat that has undergone curing (via salting, brining or smoking) and is available in its raw form.
Ham is meat that has been cooked or dry-cured and is presented in a ready-to-consume state.
Put simply: once your gammon is cooked, it becomes ham.
And if cooked correctly, your roasted ham will have crisp crackling – when fresh this is an excellent addition to a plate.
Ham is easy to make at home and offers great value for money.
Plus, you'll have plenty of leftovers to enjoy for days afterwards.
Here, the Christmas.co.uk team shows you how to buy and cook a ham for Christmas dinner.
Why do we eat ham at Christmas?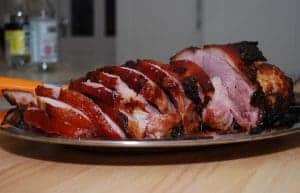 While turkey has long been the go-to choice for festive feasts, many families across the country have embraced the delicious and centuries-old custom of serving ham during this special time of year.
The tradition of serving ham at Christmas dates back centuries and has its roots in ancient times.
In medieval Europe, before the advent of modern refrigeration, pigs were typically slaughtered in the late autumn when the weather was cold enough to preserve the meat.
This made ham a natural choice for a winter feast, including Christmas celebrations.
Also, Christians at the time saw the pig as a symbol of good luck and prosperity, making it a fitting addition to the festivities.
It's also a versatile choice as a Christmas dinner centrepiece, whether glazed, honey-roasted or served plain.
Ham offers a range of flavours to suit different tastes and its succulent texture and delicious taste make it a crowd-pleaser, especially when catering to larger gatherings of family and friends at Christmas.
Another reason for the meat's popular place at the Christmas table is that it complements a variety of traditional side dishes.
From roasted vegetables and crispy potatoes to stuffing, ham's savoury notes harmonise nicely with the flavours of classic Christmas fare.
oooOooo
How to cook gammon at Christmas
This is a great video from BBC Good Food which shows just how easy it is to cook gammon for Christmas Day.
It's a step-by-step process to make the perfect gammon with the addition of sticky honey and mustard glaze. This gives the meat just the right amount of sweetness to contrast nicely with the salty meat.
The gammon is poached first with vegetables – which can be saved for a stock.
After poaching, make the glaze and remove the skin but leave a layer of fat. The fat will crisp up after being scored with a sharp knife.
The meat is then placed on a foil-covered tray and put in the oven to roast.
The ham cooks slowly and is easy to carve – it looks delicious!
oooOooo
How popular is ham for Christmas lunch?
Ham is one of the most popular choices for Christmas lunch in the UK, along with turkey, goose and beef.
There are many reasons why people choose to eat ham for Christmas lunch. Some of them are:
Ham is easy to prepare and cook. You can make it ahead of time and reheat it on the day, or serve it cold with salads and pickles
Ham is versatile and goes well with many different sides and sauces. You can pair it with roast potatoes, mashed potatoes, parsnips, carrots, Brussels sprouts, red cabbage, apple sauce, cranberry sauce or mustard
Ham is delicious and satisfying. It has a rich and savoury flavour that balances nicely with the sweetness of the glaze. It's also tender and juicy when cooked properly
Ham is economical and feeds a crowd. You can get a lot of servings from one joint of meat, and use the leftovers for sandwiches, soups, pies or salads.
How to buy the best gammon?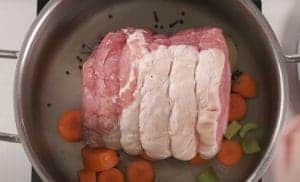 So, while we know that we need to buy gammon first, you also need to know that the quality of the gammon will affect the flavour and texture of your ham – so it's worth choosing a higher-welfare meat, if possible.
You can order gammon from your butcher in advance or look online for specialist suppliers. Also, most supermarkets in the run-up to Christmas will be offering gammon (though it might be packed and labelled as ham!).
The size of your gammon will depend on how many people you're feeding and how much in leftovers you want to enjoy in the days afterwards.
A 3-4kg piece of meat will feed around 10 people.
You can also choose between a bone-in or boneless gammon.
A bone-in gammon will have more flavour and retain more moisture, but it will be harder to carve. However, if you are making ham soup with the leftovers, the bone-in version delivers a tasty stock to use.
A boneless gammon will be easier to slice, but it may dry out more easily.
How to cook a ham?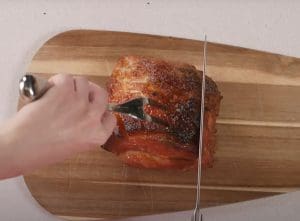 There are two main methods for cooking a ham: poaching and roasting.
Poaching involves simmering the gammon in water or stock with aromatics, such as bay leaves, peppercorns, onion and carrots.
This helps to tenderise the meat and remove some of the excess salt.
Roasting involves cooking the gammon in the oven with a glaze, which adds flavour and creates a crispy crust.
You can use either method or combine them for the best results. Here's how:
How to poach gammon
If you're starting by poaching your gammon, you'll need a large pot that can fit the meat and enough water to cover it. You'll also need some flavourings, such as onion, carrot, celery, bay leaves, peppercorns and a bouquet garni (a bundle of herbs tied together).
Before you poach your gammon, it's a good idea to soak it in cold water overnight, or for at least four hours to wash away some of the excess salt. Alternatively, you can boil it for 30 minutes and then discard the water.
Whichever route you choose, these are the next steps:
Place the gammon in the pot and cover with fresh water.
Add your flavourings and bring to a boil.
Then reduce the heat and simmer gently for about 20 minutes per 500g of meat, or until the internal temperature reaches 68°C/154°F (you can use a meat thermometer to check).
Once cooked, remove from the pot and let it rest for 15 minutes before carving or glazing.
You can keep the stock for making soups, casseroles or cooking vegetables.
How to roast gammon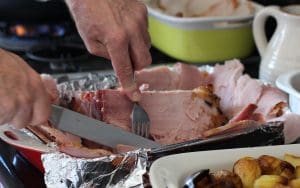 If you're roasting your gammon from raw, you'll need a roasting tray that can fit the meat and some foil to cover it. You'll also need a glaze of your choice (see below for some ideas).
Preheat your oven to 160°C/140°C fan/gas mark 3.
Place the gammon in the tray and cover with foil.
Roast for about 30 minutes per 500g of meat, or until the internal temperature reaches 68°C/154°F.
If you're roasting your gammon after poaching it, you'll need to remove the skin first and score the fat in a diamond pattern. This will help the glaze stick better.
Increase the oven temperature to 200°C/180°C fan/gas mark 6.
Remove the foil and brush your glaze over the meat.
Return it to the oven for another 20 minutes or until crisp and golden.
Baste your ham from this point every 10 minutes with more glaze or pan juices until it is cooked.
Once cooked, remove it from the oven and let it rest for 15 minutes before carving.
oooOooo
Phil Vickery's showstopper Christmas ham
This video comes from the popular TV show This Morning and shows cooking expert Phil Vickery putting together a showstopping ham.
He dishes it up with pineapple and serves it with a Brussels sprout bubble and squeak.
Phil also offers an interesting take for the glaze with a mix of spices and stock, which is added at the very end before roasting – and this is topped up during the cooking process.
If you want to make an impression with ham for your Christmas dinner, then the finished product does look like a showstopper!
oooOooo
How to glaze a ham?
A glaze is a sweet and sticky sauce that coats the ham and adds flavour and colour. You can use any combination of ingredients, such as honey, mustard, marmalade, brown sugar, spices, herbs or fruit. Here are some examples of glazes you can try:
Honey and mustard: Mix 4 tbsp of runny honey with 2 tbsp of wholegrain mustard and season with salt and pepper
Marmalade and rosemary: Stir a jar of thin-rind marmalade to loosen, then strip over some fresh rosemary leaves
Apple cider and cinnamon: In a small saucepan, combine 125g of butter, 200g of brown sugar, 125ml of honey, 250ml of apple cider, 1 tsp of cinnamon and a pinch of nutmeg. Simmer for 5-7 minutes or until syrupy
Cranberry and orange: In a small saucepan, combine 250g of cranberry sauce, the juice and zest of 1 orange, 2 tbsp of brown sugar and 1 tsp of allspice. Simmer for 10 minutes or until thickened.
Nigella Lawson's excellent Ham in Coca Cola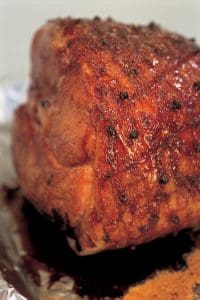 Another recipe idea is Nigella Lawson's Ham in Coca Cola.
It might sound a bit weird but – trust us on this! – the finished ham is a cracking creation.
Ingredients
2 kg mild-cure gammon joint
2 litres Coca-Cola
1 onion that has been peeled and sliced in half.
 Glaze
2 tablespoons demerara sugar
2 teaspoons English mustard powder
1 heaped tablespoon black treacle
1 handful of cloves.
Method
Nigella chooses mild-cure gammon because it doesn't need soaking – if yours is a salty piece then put it in a pan of cold water, bring to a boil and then drain the water. Otherwise:
Place the gammon in a pan with the skin side down. Add the onion, then pour the Coke over it.
Bring the mixture to a boil, then reduce it to a steady simmer. Cover the pan with a lid, not tightly and cook for just under 2½ hours. Adjust the timing if your joint is larger or smaller.
Preheat your oven to 240°C/gas mark 9/450ºF.
Once the ham has completed its cooking time, remove it from the pan and allow it to cool slightly for easier handling.
Remove the skin while leaving a thin layer of fat.
Use a sharp knife to score the fat, creating large diamond patterns and place a clove in the centre of each diamond. Carefully spread the treacle over the scored skin, being cautious not to dislodge the cloves. Gently apply the mustard and sugar onto the sticky fat.
Place the ham in a roasting tin lined with foil and cook for approximately 10 minutes, or until the glaze becomes burnished and bubbly.
If you prefer to complete the braising stage in advance and then let the ham cool, you can add the cloves and glaze, and then give it 30-40 minutes in a preheated oven at 180°C/gas mark 4/350ºF. Adjust the heat upwards toward the end if you find it necessary.
How do I carve a ham?
Carving a ham is not difficult if you have a sharp knife and a carving fork. Here are some tips on how to carve a ham:
Place the ham on a large cutting board and secure it with the carving fork
If your ham has a bone in it, start by cutting around the bone to release the meat. Then cut along the grain into thin slices
If your ham is boneless, simply cut across the grain into thin slices
Arrange the slices on a large platter along with your favourite sauces and sides.
oooOooo
How to carve a whole bone-in ham (For beginners)
While our instructions above show how to carve a ham at Christmas, this video is a great offering to show how to deal with a ham that has the bone left in.
As the title suggests this is for beginners and the video from Frick's offers some great tips.
Presenter Dave says it shouldn't have to be a battle when carving ham – and he's right!
He explains where the bones are in the ham and tackles a very large piece of meat to end up with his carved slices.
Use a sharp knife and follow the bone to make the ham more manageable – and what is left can be used for soups and other dishes.