Whether they are for you, or a treat for a loved one, great Christmas food hampers for 2021 are an indulgent gift packed with festive treats.
Here, we look at some of the best Christmas food hampers around containing everything from savoury and sweet delights to alcohol and tea.
There's no doubt that receiving a hamper is a lovely surprise, particularly at Christmas when many of us like to indulge ourselves with treats, and a Christmas hamper is an excellent way to introduce people to new tastes and products.
So, while many hampers and gift boxes will have usual Christmas staples such as cheese boards, puddings and biscuits, there are also hampers around offering popular favourites from around the world and lovely items to delight from the UK.
Many of these creations come in a wicker basket and there are hampers ranging across various price points to deliver the perfect gift to impress.
So, whether you have a sweet tooth, or like sweet and savoury delights including Christmas cake, mince pies or Christmas pudding, a festive hamper is a great way to enjoy Christmas Day.
And most luxury hamper creators will create Christmas food hampers that will have enough for the following days including, for example, a tasty Boxing Day chutney to round off the perfect afternoon tea.
Here, the Christmas.co.uk team have sampled some of the best offerings to deliver our verdict on which are the great Christmas food hampers for 2021.
Carluccio's Italian supper hampers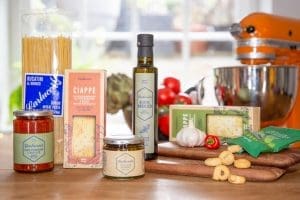 If someone in your life really does enjoy cooking, then it's time to spoil your chef with the Carluccio's Italian supper hamper. It costs £36 and offers new sources and infused oils along with authentic Italian pastas. It's a great treat or there's the Italian larder hamper for £69 which will feed a family of four with three excellent meals. Again, it has a variety of pasta and organic vegetable sources. Carluccio's is also offering several alcohol hampers including the 'Merry Spritzmas' hamper at £59 which includes a new Clemente Panettone which is coated in dark chocolate, two spritz glasses and a bottle of Prosecco and Aperol. Not to be outdone, there's also the Arancia gin hamper at £69 with various flavoured goodies, stylish glassware as well as a premium wooden chopping board and the Clementine panettone. We were also taken by the Carluccio's Ciocclatto Chocolate Hamper at £40 which is a real chocoholic street. With various chocolate bars and biscuits, it's an interesting offering that probably won't last for long when opened on Christmas Day!
Fine Cheese Co 'First Impressions'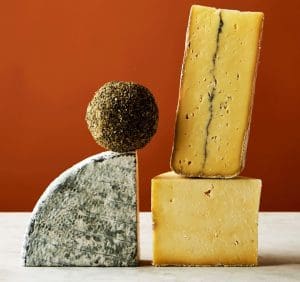 For the cheese lover in your life, the Fine Cheese Co offers this excellent 'First Impressions' of four new kinds of cheese at £35. The hamper consists of four of the firm's new cheese discoveries over the past year and which have obviously proved popular with customers. They include Culpeper cheese from The Old Cheese Room which is rolled into a ball and has been dusted with a variety of English herbs. There's also Ashcombe, which is a supple and smooth cheese with a striking line of ash that runs through the middle of it. Cheese lovers also get Old Road Wensleydale which is a buttery and rich offering that has a refreshing acidity. The fourth cheese is Lady Grey which is a refined goat cheese offering from St James Cheese.
British Regional Hampers' Christmas celebration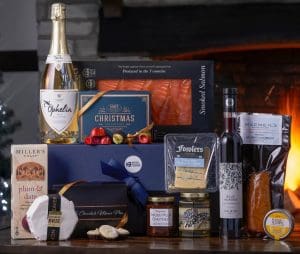 We think one of the best curated ranges of Christmas hampers comes from British Regional Hampers who are supporting local small businesses. The hampers consist of limited edition and very tasty British produce with lots of environmentally friendly products. As memorable and unique gifts go, the firm offers something for everyone, and we are rather taken by the Christmas Celebration Hamper at £160. The recipient gets to enjoy English 'bubbles' to enjoy on its own, or as an English version of a Kir-Royal-with-a-twist – which is paired with Blue Aurora's Blueberry 'Eiswein'. There's also organic Cotswold brie, beechwood-smoked duck breast, handmade spiced plum chutney, beechwood-smoked salmon and seasonal mince pie chocolates. There's also the tasty Warwickshire hamper at £85 which contains a bottle of liquor from the Ragley Estate, handmade cheese shortbread that is ready-to-bake and an impressive ploughman's platter with cheese and a cracking pork pie. There are also chocolate bars and fresh coffee beans. We also loved the alcohol-free hamper with spicey tomato juice and a grazing platter that includes cheese, salmon and duck.
Social Supermarket Christmas hampers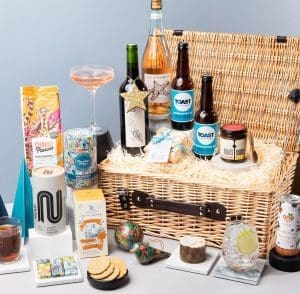 There's no reason why you can't do some good when you want to treat someone to a Christmas hamper or even a gift box. If that's the case, the people at Social Supermarket are worth considering with an impressive range of hampers that have been hand-picked from various social enterprises. And if you buy two of their gifts, they will plant a tree. Essentially, these are ethical hampers that have been packed with sustainable gifts for gin connoisseurs, and craft beer fans or simply those who love chocolate treats. The Christmas.co.uk team really liked the 'White Oak Christmas' hamper at £124.99. It's packed with everything to enjoy a delicious Christmas Day with from pale ale beer, Malbec wine and Prosecco rose wines. There are also tasty coffee beans, English breakfast tea bags, an assortment of Neopolitans, tasty oatcakes and a richly fruited Christmas cake, among other items. The Social Supermarket also do other, lower priced treats including a 'Festive fare chocolate letterbox gift set' at £15.99 with some very tasty chocolate bars, milk chocolate coins and Traidcraft chocolate chip biscuits.
Sam's Larder 'Santa Baby' Hamper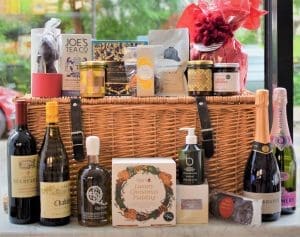 Among the offbeat offerings this year is a very tasty Christmas hamper from Sam's Larder – the popular Hammersmith restaurant with a deli attached. While the hamper costs £375, it is packed with quality food and drink including Vallebona traditional panettone, Christmas pudding and a chocolate Father Christmas. The hamper's recipient will also get to enjoy hazelnut crunch truffles and Melrose and Morgan dark chocolate Florentines.
Other great Christmas food hampers to consider
Harvey Nichols 'Night Before Christmas hamper'
Memorable mentions for Great Christmas food hampers include the Harvey Nichols 'Night Before Christmas hamper' priced at £90. While some people will enjoy Christmas Eve boxes, this offering offers wine, tasty snacks and nibbles – a great way to relax after you have spent the last few hours furiously wrapping Christmas presents.
Marianna Leivaditaki Aegean special box
We also love a real foodie delight from Marianna Leivaditaki, the head chef at Morito in Hackney. She's put together an impressive range of small hampers including the Aegean special box at £45. It contains a homemade chocolate bar with sour cherries, along with red wine and cinnamon biscuits, Cretan mountain tea and Cretan time honey. It's an unusual but impressive creation.
Oliveology 'Christmas Showstopper' hamper
Another great outfit to consider is the 'Christmas Showstopper' hamper from Oliveology at £105. This is packed with festive delicacies including olive leaf tea, truffle oil and raw pine honey with honeycomb. There are also almond biscuits, dried figs, rusted hazelnuts and chilli vinegar among other items. The hamper is a real treat for anyone who loves a Mediterranean diet or quality items to deliver a tasty distraction.
Biscuiteers' Christmas offerings
We also enjoyed the Christmas offerings from the Biscuiteers – who also impressed us last year. They have brought back their popular biscuit tin Monopoly and these talented craftspeople have also created 'The Snowman' biscuit tin. The attractive tin costs £38 and contains The Snowman, a Christmas tree and other characters in biscuit form – which are delicious. There are also letterbox biscuit gifts in the shape of The Snowman, and Santa's sleigh. The website also has a Nutcracker gift box at £105 which has a Christmas cake, some very impressive handmade biscuits and a bottle of Prosecco. While it's not strictly speaking a hamper, it does make for an e