Two easy and fun projects for adults and children to make your home zing with seasonal fragrance
When it comes to our senses, Christmas is a feast – and we're not just talking about roast turkey with all the trimmings.
It's not something we may think much about amid the rush and bustle of this time of year, but perhaps one of the reasons we love yuletide  so much is that it just makes our senses sing – literally. The sound of Carols at King's, or the delight of toddlers singing Little Donkey; the twinkle of lights and candles; the tingly feeling on our faces as we come into the warm from a post-Christmas dinner walk; not forgetting all the delightful titbits to tickle our taste buds.
But nothing beats our sense of smell for the sensual onslaught that is Christmas. Not only is this sense responsible for helping make that glass of Bailey's, or naughty fourth chocolate, taste divine, but it is also closely linked to our emotions. The right smells can help us feel calm and contented – so much so that premature babies are given 'bonding squares'; small pieces of fabric that are exchanged with parents to reassure and calm the babies with their scent. Smell is also linked to memory, which is why an unconscious whiff of bread sauce can trigger memories of your grandmother.
So, when it comes to Christmas it is well worth paying special attention to fragrance. Not only will it create a wonderful warm atmosphere for this season, but it will help lay down positive memories for you and your children for years, and even decades, to come.
You can, of course, head out to the shopping centre and stock up on fragrant Christmas products. But it's much more fun to make your own – and a great activity to do with the kids. So, to give you a creative head start, here are a couple of fun and easy fragrant makes:
Mason or Jam Jar Oil Lanterns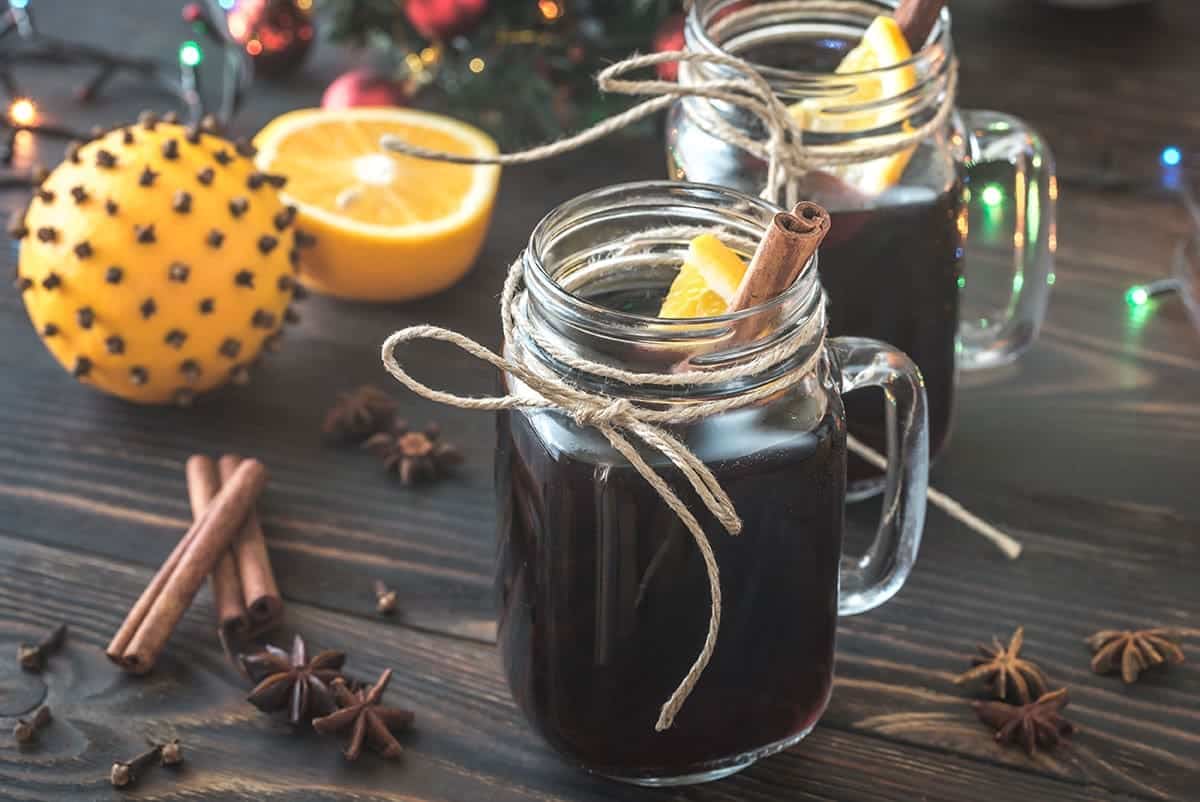 These candles use 'floating wicks' which sit on a thin film of oil on top of the jar. You can fill the jars with all kinds of Christmassy items that help add fragrance – and look amazing. There are lots of ideas for filling these jars online, especially on sites such as Pinterest – some are arty and take some skill, while others are simple enough for a toddler. Here are some of the nicest for Christmas:
Woodland wonder: Bundle the kids up in wellies and woolies and head out to your nearest woodland to pick up some natural fillers such as fallen pine cones and leaves, acorns and interesting twigs.
Gardener's delight: Fill your jar with attractive leaves and flowers, holly and berries if you have it growing.
Herbal bliss: Combine sprigs of rosemary or lavender with bay leaves and pine cones.
Citrus blossom: If your jar is big enough add whole lemons or mandarins with sprigs of bay or rosemary. If you are using little jars simply slice your fruit, maybe studded with cloves, and add some greenery.
You can experiment with different materials: flowers, painted stones, beads or glass pebbles look great, and you can colour the water for added effect.
Now find an empty jar. Mason jars are all the rage, and great if you want to create a few lanterns and have a uniform look. However, any jars will do.
Fill the jar with your chosen materials, then cover them with water nearly to the top. Float about 0.5cm oil on top – unused olive or sunflower oil works well, but any vegetable oil will do – then add the floating wick. You can buy these online  or in specialist religious supply stores. They are small waxed discs and not the same as floating candles.
Add some essential oils to the film of oil for extra fragrant zing. Many shops and online suppliers have created Christmas mixes already for you. John Lewis, for instance, sells a 10ml 'Christmas in a bottle' mix called Jormaeppouri (£6.99).
However, if you are planning on using a lot of oil, it can be cheaper, and more satisfying, to buy a few bottles and create your own mix. Choose from woody scents such as cedarwood, vetiver, patchouli or sandalwood; herbal fragrances including bay, juniper, rosemary and pine; spice notes, such as cinnamon, nutmeg, ginger, cloves and vanilla; and citrus smells like tangerine, lemon and bitter orange.
Whatever oils you are using, add 3-5 drops to the oil in your jar before lighting the wick. Naturally filled jars will last about a week, and a tablespoon of oil will burn for about two hours. 
Cinnamon Dough Tree Decorations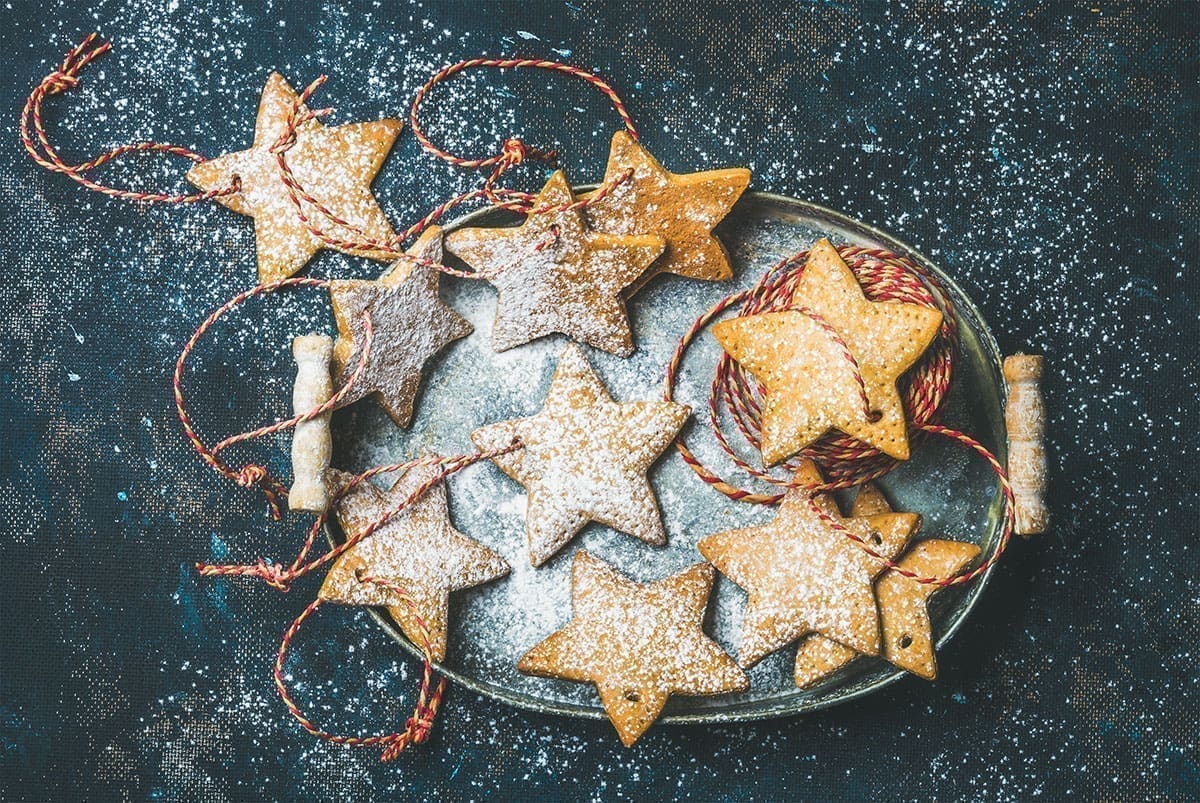 This dough smells divine when you are making it – and continues to add a note of cinnamon to your home when you hang it on your tree or in a garland. It's a fun project too and one the children will enjoy since it involves messing around with squidgy dough and cutting or creating shapes. A note of caution, however; these can look and smell very enticing, but they are not edible. None of the materials will do anyone great harm if ingested, but, well, it's much better that they don't end up inside small tummies, or the cat. So, this may not be an ideal project for very young children – and if you do have toddlers or pets, hang them out of reach.
But don't let that put you off because you can really go to town on this project. If you are artfully inclined you can create some lovely and intricate pieces out of cinnamon dough, while the kids can roll, and squidge to their heart's content – then splash paint on the baked dough when it comes out of the oven.
You will need equal measures of apple sauce and PVA glue (you can buy a baby-food jar of the sauce then use the jar to measure the glue) – and you will need to use double the amount of cinnamon to apple sauce (two baby jars, for instance). If you are planning on making a big batch, you can buy larger quantities of cinnamon in health food shops or online.
Combine the cinnamon and apple sauce in a bowl until well blended, then pour in the glue and mix in well. You may find it easier to knead the dough towards the end as it will be quite stiff. Wrap for about an hour in plastic and leave at room temperature.
Roll the dough to about 0.5cm. If you find your dough is cracking you can spritz it with water – and if that doesn't solve the issue, add a little water into the dough and knead again.
Now you are ready to create! For simple shapes use cookie cutters – Christmas tree and star shapes look good in garlands or hanging on the tree. You can also create gingerbread men – but before you make anything edible looking, take into account the tempting effect this might have on any children – or  husbands. You can add texture by using toothpicks or embossed rolling pens – and you don't have to roll at all! You can make balls or mini sculptures – in fact, your cinnamon dough creations can be as simple or as complex as your imagination allows. Just remember that if you want your work of art to hang up, you need to punch a hole in it before cooking, drinking straws are good for doing this!
When you have finished, place your creations on a parchment-lined tray and pop it into a low pre-warmed oven at 100 degrees C. Cook for two hours, turning the dough over at the halfway point.
When your pieces are cooked, you can all have extra fun by decorating them with acrylic paint or sticking bits to them. Add some festive ribbon and hang them up, or attach them together to make a garland – then enjoy your cinnamon-scented atmosphere. (Warning: you may experience a recurrent desire to eat buns.)
So now you've filled the house with the aroma of seasonal spice, the kids are covered in glue and the dog is liberally dusted with cinnamon – and you have lots of bits of interesting leftovers, such as sliced oranges, cinnamon sticks and cloves. Hmmm, it would be a shame to waste them – pop them in a pot with some brown sugar and a decent bottle of red, and you have an enticing mulled wine.
Now your house smells like Christmas on a stick – and you've earned some quality R&R. Add a final spritz of fragrance by using up to 10 drops of your seasonal essential oil mix in a hot bath. Pour yourself a glass of mulled wine – and lie back in a yuletide haze.