Selfridges was the first big department store to reveal its Christmas window displays – which is always a sign that Christmas is coming!
Everyone loves an impressive shop window display while out festive shopping and the shop had more than 100 staff worked on the displays over eight days in non-stop rotating shifts.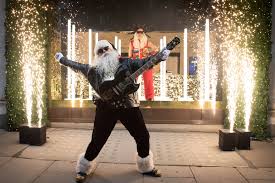 With the theme 'Selfridge's rocks Christmas' for its stores in London, Birmingham and Manchester the displays will focus on 200 Christmas trees, 85,000 baubles and 65,000 pieces of paper confetti.
This confetti will be released from cannons every single day.
A spokeswoman for Selfridge's said: "We've been opening the doors for our Christmas shop in the summer for several years and we are a real destination for Christmas fans from the UK and overseas wanting festive decorations."
Selfridges' store in Oxford Street
The displays were unveiled at the Selfridges' store in Oxford Street with the rock 'n' roll theme being inspired by the idea of Santa Claus going on tour.
Selfridges has worked with a range of designers for the windows with collaborations with household names that have been a year in the making.
The unveiling of Christmas window displays has become a part of the festive build-up as much as switching on Christmas lights in town and city centres around the country.
But it's not just in the UK that the media and Christmas shoppers look forward to the window display unveiling with popular US outlet Maceys also generating lots of interest when they do so.
Over the years, Burton's was particularly known for its famous Christmas displays, particularly in the 1950s, while there are lots of other department stores, including Fenwicks, who also deliver impressive displays to attract shoppers.
Displays may just entice more people
And this is the crux of why shops go to so much time and trouble to create an eye-catching display and in a year that has seen the High Street increasingly struggle against online retailers and shoppers feeling the pinch, these displays may just entice even more people onto the threshold to spend.
So, over the coming weeks it may be a good idea to keep an eye on what the best Christmas window displays are.
Last year, one survey travelled the country to find the best Christmas window displays and placed Betty's in York in first spot. Unusually, Betty's is more famous as a cafe and restaurant but still manages to deliver an impressive and eye-catching window display.
Liberty store in London
Fenwicks in Newcastle also impressed those putting the list together as did the Liberty store in London which used the Nutcracker theme to deliver an all-round impressive and modern display.
The Fortnum & Mason store turned themselves into a tourist attraction at Christmas last year by putting together an impressive theme called 'Together We're Merrier' which featured a small boy jumping around on a Brussels sprout space hopper.
If you see a particularly impressive Christmas window display while out shopping during the festive season, then get in touch with the Christmas.co.uk team so we can share your impressions with a wider audience.